Share
Site menu
Home
Section categories
Shopping Cart
Your shopping cart is empty
Main » National News
---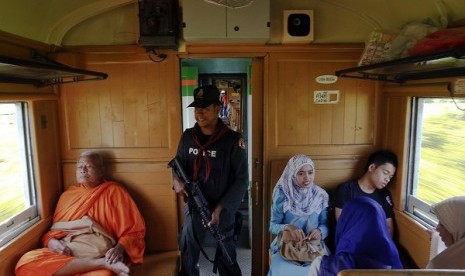 JAKARTA - Representatives from the Government of South Thailand visited Indonesia on Friday and met Indonesian Minister of Religious Affairs Suryadharma Ali to discuss on religious cooperation. They expect Indonesia to deepen its role to create peace in their region.
"We talked about promising cooperation, particularly on religious matters, such as education, culture, and hajj," Ali said on Friday. He said that South Thailand was looking for inspiration from Indonesia to create peace in their region.
"I hope their visit can broaden their understandings about Islam in Indonesia," he said.
The Head of South Thailand Representatives, Tawee SodSong, said that South Thailand was rather similar with Indonesia in ... Read more »
Jayapura/Surabaya.
Activists in West Papua province say that up to 95 people have died of hunger in Tambrauw district since last November, with hundreds more still at risk.
Frits Bernard Kamuki Ramandey, the acting secretary of the Papua office of the National Commission for Human Rights (Komnas HAM), said on Wednesday night that it was inconceivable how the authorities had allowed people to starve to death.
"Obviously the local authorities have let the situation get out of control," he said.
"How can so many people be suffering from this? This is no natural disaster."
He added that Komnas HAM had recorded 95 deaths in the subdistrict of Kwor between November last year and the end of March this year.
Gabriel, the Tambrauw district chief, acknowledged that there was a malnutrition problem in the area, but refuted Komnas HAM's figure, saying that only 15 people had died during that period.
He
...
Read more »
Jayapura Onews,-- Indigenous Peoples' Alliance of the Archipelago (AMAN) is still waiting for the government response to problems related to poor nutrition in Papua that killed 95 people since November 2012 ago.
SAFE assess go

...

Read more »
In my
last post
, I argued that critics of Indonesian military (TNI) reform are taking too narrow a view of its progress. For most critics, the primary yardstick for measuring the success of TNI's reform agenda has been a 2004 law, which laid out a roadmap and a timetable for recasting the military in line with modern liberal democratic norms. This is considered by many the 'be all and end all' metric for TNI reform.
All organisms, physical or organisational, continuously evolve. For example, our own defence force is currently engaged in organisational renewal and is ... Read more »
Onews,-- The West Papua National Coalition for Liberation (WPNCL) representatives based in Vanuatu met with Fijian Prime Minister, Frank Bainimarama, Wednesday last week lobbying for full membership status in the Melanesian Spearhead Group (MSG).
Those who met Bainimarama included Vice Chairman, Dr Otto Ondawame, Secretary General, Mr Rex Rumakiek, and former Vanuatu Prime Minister, Barak Sope.
These WPNCL members met with Bainimarama because he is currently the Chairman of the MSG.

Earlier on March ... Read more »
"
We condemn
any
foreign intervention in
Papua
to
Papua
release
from
Homeland.
Onews,-- Community organizations
and
leaders
who are members
of the Islamic movement
Islamic People's Forum
...
Read more »
Flow
Login
Currency
Search
Calendar
« April 2019 »
Su
Mo
Tu
We
Th
Fr
Sa
1
2
3
4
5
6
7
8
9
10
11
12
13
14
15
16
17
18
19
20
21
22
23
24
25
26
27
28
29
30
Entries archive
Our poll
Site friends
Statistics
---
Total online: 1
Guests: 1
Users: 0
Rss Onews