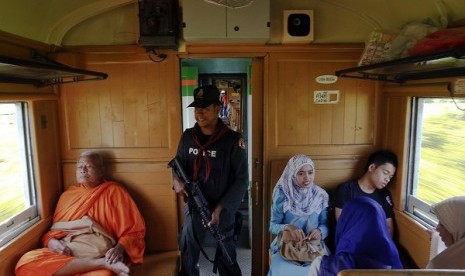 JAKARTA - Representatives from the Government of South Thailand visited Indonesia on Friday and met Indonesian Minister of Religious Affairs Suryadharma Ali to discuss on religious cooperation. They expect Indonesia to deepen its role to create peace in their region.
"We talked about promising cooperation, particularly on religious matters, such as education, culture, and hajj," Ali said on Friday. He said that South Thailand was looking for inspiration from Indonesia to create peace in their region.
"I hope their visit can broaden their understandings about Islam in Indonesia," he said.
The Head of South Thailand Representatives, Tawee SodSong, said that South Thailand was rather similar with Indonesia in terms of nationality, tribes and religions. About 80 percent of its 1.7 million population are Muslim. He admitted that South Thailand was astonished with Indonesian people who could live together in peace.
"We hope cooperation on education, religion and economy with Indonesia can bring peace to South Thailand," SodSong said.
Meanwhile, suspected rebels in South Thailand killed Deputy Governor of Yala Province, Isra Thongthawat, and another state official with a roadside bomb on Friday, a week after the government held first formal talks with a rebel group to try to end years of violence.
Isra becomes the most senior civilian official to be killed among the three provinces since the insurgency resurfaced in the south of Buddhist-majority Thailand in 2004 after simmering for decades. At least 29 people have died in the three southern provinces of Pattani, Yala and Narathiwat since February 28 when the Barisan Revolusi Nasional (BRN) rebels agreed to hold talks. More than 5,300 people have died since January 2004.
Security officials say the BRN is the main insurgent organization behind the violence but acknowledge that other armed groups operate in the three provinces and may not agree even with the idea of talks. The government has ruled out autonomy or self-rule, and some analysts remain pessimistic the talks will do much to curb the violence.
"Hostilities on the ground show no sign of cessation," Sunai Phasuk of Human Rights Watch said. "Authorities need to fine-tune the peace efforts by moving beyond talking to de-radicalising the situation on the ground starting with trying to understand the factors that galvanize the militants," Phasuk added.
More: http://www.republika.co.id/berita/en/islam-in-archipelago/13/04/06/mkuahk-south-thailand-seeks-religious-cooperation-with-indonesia