Share
Site menu
Home
Section categories
Main » Entries archive
---
Tensions rise in Papua-KNPB activist killed
Jayapura Onews
,-- compiled from reports of Tabloid Jubi, Victor Mambor and West Papua Media stringers in Wamena
December 17, 2012
A West Papua National Committee (KNPB) activist has been killed, and a farmer has died from his wounds in hospital, after being shot by members of the Australian-trained anti-terror unit Detachment 88 outside Wamena on December 16, following raids that arrested at least six activists on Sunday morning, according to multiple sources.
KNPB activist Hubertus Mabel (aged 30) died shortly after being taken by police to Wamena hospital after the shooting at 1030am in the village in Milima (or Kugima) in Kurulu district outside Wamena. Local farmer Natalis Alua (3
...
Read more »
Jakarta Ones,-- A non-governmental organization (NGO), National Papua Solidarity (NAPAS), urged the government to investigate the cause of death of 95 people in Tambrauw regency, West Papua, saying that the Health Ministry neglected Papuans in remote areas.
Previously, the Sorong Raya chapter of Nusantara Traditional Community Alliance (AMAN) reported that as many as 95 people in Tambrauw died after failing to receive medical care.
In Baddei village 45 out of a total 250 sick residents have died, in Jokjober village 15 of its 210 sick people are now dead and in Kosefa village 35 of the 75 sick villagers did not recover.
"The lack of healthcare in the three villages has meant sick residents eventually die," Sorong Raya chapter AMAN head Konstan Magablo cited, adding that the residents suffered from symptoms such as headache, high fever and skin irritation.
He said that since 2010, due to a lack of personnel, the three vi
...
Read more »
Jakarta Metrotvnews.com
,
Jakarta
:
hoisting
the flag of
Aceh
as
describing
the region
wants independence
and
secession
from the
Republic of Indonesia
.
It could have
happened
.
...
Read more »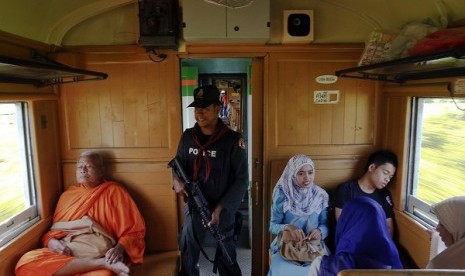 JAKARTA - Representatives from the Government of South Thailand visited Indonesia on Friday and met Indonesian Minister of Religious Affairs Suryadharma Ali to discuss on religious cooperation. They expect Indonesia to deepen its role to create peace in their region.
"We talked about promising cooperation, particularly on religious matters, such as education, culture, and hajj," Ali said on Friday. He said that South Thailand was looking for inspiration from Indonesia to create peace in their region.
"I hope their visit can broaden their understandings about Islam in Indonesia," he said.
The Head of South Thailand Representatives, Tawee SodSong, said that South Thailand was rather similar with Indonesia in ... Read more »
The
UN Human Rights Chief, Navi Pillay
on 5 April 2013 ordered United States to shut down its
Guantanamo Prison Camp
with immediate effect. As per the International Laws, the indefinite imprisonment of the detainees by US without any charge or trial was a violation of International laws.
The Human Rights Chief of UN also claimed that the hunger strike by the inmates of the Guantanamo Bay US Naval Base in southeastern Cuba was a desperate act as well as an element of Surprise.
As per United Nations Human Rights claim, the act of US was just not a breach of its own commitments but also of the international laws and standards.
Guantanamo Prison Camp
Guantanamo prison camp was started in January 2002 during bush administration and is a detainment and interrogation facility of the United States military that is located within Guantanamo Bay Naval
Base of Cuba. It is use
...
Read more »
Flow
Login
Currency
Search
Calendar
« October 2019 »
Su
Mo
Tu
We
Th
Fr
Sa
1
2
3
4
5
6
7
8
9
10
11
12
13
14
15
16
17
18
19
20
21
22
23
24
25
26
27
28
29
30
31
Entries archive
Our poll
Site friends
Statistics
---
Total online: 1
Guests: 1
Users: 0
Rss Onews